Emsti-altair Denma
RP-Profile
Light Datacenter, Zodiark Server
Race: Miqo'te, Keeper of the Moon
Gender: Male
Age: 21
Height: 173.2
Sexuality: Bisexual, with a gay lean
Place of birth: A hidden forest in the Black Shroud
Residence: The Goblet, 23th Ward, Plot 34
Job: Dragoon, Part-time White Mage
Married to K'hazri Gale
"A shy but flirty Miqo'te with a passion for flowers, forests, dancing and barkeeping."
Born in the Black Shroud as
Szah'to Jawantal,
he grew up in a small family of Keepers.

From young age he already got told the rules of his clan, knowing that he has to "leave" as soon as he turns older.
Being sick of the traditions of his clan as he grew up, he decided to leave as soon as possible, sneaking away after his brother had to leave, when nobody was looking.

Unfortunately Szah'to did not know where his brother went, nor where he was going.
Luckily a young Seeker lady spotted the lost one and took him with her.

As soon as he turned 16 he decided to change his name to Emsti-altair Denma, before also leaving this 'family' and living a life underneath the more civilised Citizen.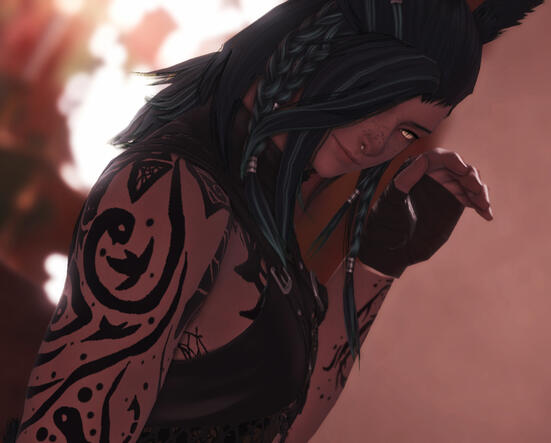 "Working at Night, sleeping at Day, guess thats the only thing that didnt change"
Working as Bartender or Dancer, Emsti enjoys entertaining his Customers in the Nightclub of Shirogane.
Don't let yourself get fooled, this one does'nt bite and probably is more scared of you than you should be of him!
---
Entertaining his Customers as Host, Emsti tries to learn more about people outside of the Black Shroud, the normal behaviour that means. Sadly his shyness overcomes himself very often so he doesnt talk much, and rather dances.
---
An eastern Nightclub with loud music, also located in Shirogane, where Emsti provides his services as Dancer/Entertainer, being awkwardly shy as always but enjoying to make his Customers happy.
owo whats this?!

Emsti is also working at Exile! Well, atleast this Au'Ra claims to be Emsti, who he really is? nobody knows!